2000 + Rhythm
Clocks
in stock means You $ave
All clocks come with a one year warranty from Champ's
(same warranty as factory new)
Great Prices and YOUR satisfaction is our goal since 1967. Call toll free for Price and Availability
888-283-8320

Champ's The World's Finest Selection of Clocks!
Sligh
Bulova
Hermle
Ridgeway
Howard Miller
Rhythm
1
1
1
1
1
1
1
1
1
1
1
1
1
1
1
1
1
1
1
1
1
1
1
1
1
1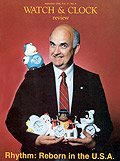 Huge Savings on
Rhythm Small World Clocks
Champ's Clock shop has the largest selection of older Rhythm clocks in the USA. Our Local Relationship With Rhythm USA Located here in Atlanta, Georgia has kept our inventory over 2000 amimated Rhythm Clocks in Stock for years. Give the shop a call with your Rhythm Clock needs.
Our Prices will make you smile.


Rhythm Clocks bring SMILES to young and old while
Proving their Quality in Homes & Offices
around the World Daily!
4MH687RH23

RISING RINGERS
Every hour on the hour, four bell ringers on the stage rise up and strike the bells to one of six different melodies. Counts the hours after the performance, and they go back to the original position.
Size: 21.5"H x 12.2"W
$275.00
Call 770-942-2128

4MH752-R06
DWS Timecracker
Every hour on the hour, the face splits into two parts, slides out, away from each other, and rotates while playing one of six different melodies by DWS (Dynamic Wave Sound). The pendulum with crystals from Swarovski components rotates continuously.
Size: 20.4"H x 16.7"W
$275.00

4MH749-R23

DWS Dual Organists
Every hour on the hour, the two organists rotate forward into position, and then perform to one of six different melodies by DWS (Dynamic Wave Sound).

Size: 21.2"H x 15.0"W
$199.00
Call 770-942-2128

4MH750-R23

DWS Solo Concert

Every hour on the hour, the organist rotates forward, and plays to one of six different melodies by DWS (Dynamic Wave Sound).

Size: 20.3"H x 14"W
$169.00

Call 770-942-2128

4MH744NR23

SIGN OF THE TIME

Every hour on the hour, the face opens to reveal a rotating wheel displaying the Zodiac signs. After the introductory melody, two figurines move and the Zodiac signs turn to play one of six different melodies.
Size: 22"H x 13.9"W
$275.00

Call 770-942-2128
Meet: Bob Wyzykowski
Bob is the voice on the Rise & Shine Pup, a "Speak Up" alarm clock from the 90s
He worked as a company representative for several years when Rhythm first brought distribution to the USA

<--See the cover of Watch and Clock Review
Meet: Rhythm USA Presidents
Yuichi Koizumi:President until 9/ 2005 visits with new President Kazumi Kinoshita: One last visit to Champ's before returning to Japan. Upon our Introduction to the new president, they were both kind enough to sign personal clock. Yuichi has since returned to the USA as President 2008